Move from Good to GREAT! #g2G
Move from Good to GREAT! #g2G
2021-02-08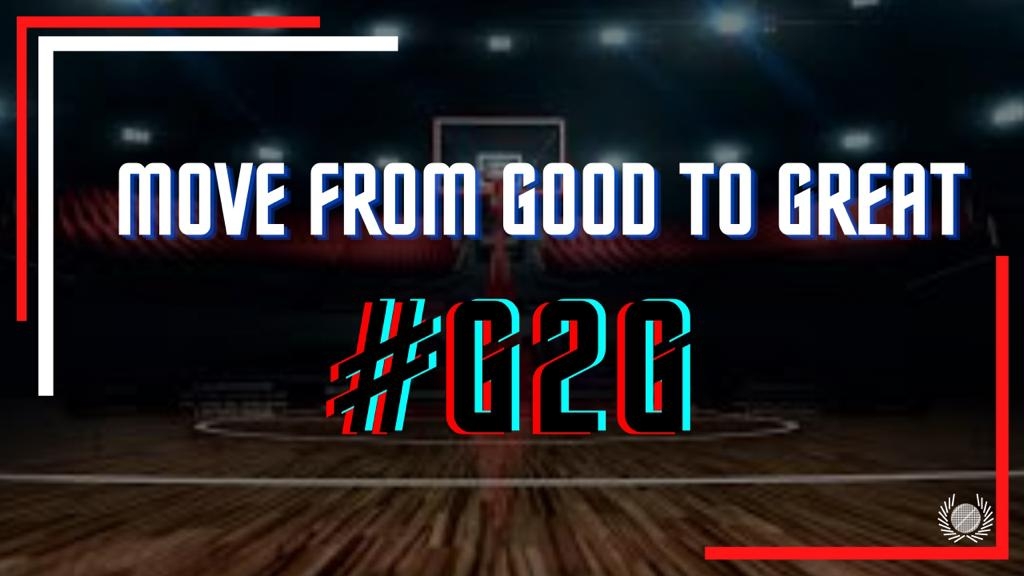 Good to great (g2G) is a way of life!
This will apply to more than what you can do on a basketball court. This will help you out daily in order for you to improve at anything you set your mind to.
Why good to great?
Good to Great was a slogan that we used a lot in college and was one of our coach's favorite sayings. By the way.. he happens to be the all-time winningest coach at Indiana University of Pennsylvania in program history (Joe Lombardi). It was a saying that really resided with us and shaped who we are today. It was all about the mindset of evolving from good to great.
How do you get from good to great?
Getting from good to great isn't easy. If it were easy everyone would be great! And although great is relative to your thinking, everyone has a similar idea for "great".
This is a process and can't be done overnight. It is something that takes time and effort. We'll talk about being a stone cutter in another blog post, but it's important to be a stone cutter.
It's all about getting a little bit better every day. As long as you are progressing forward, it doesn't matter how much you progress. You will eventually get there.
Now that you have an idea of the saying good to great, let´s get into the two biggest ideas about saying.
1. You can't be great until you are good!
This one is HUGE! Many people in life want to be great, as in they truly love the idea of being great! The only problem with this is that they don't want to be good first.
You have to be good at something before you are great at it.
A lot of freshmen in college and rookies in the NBA struggle with this. They think that because they are highly rated out of college or drafted in the lottery that they can go and be great for their new team.
A lot of guys fall short of being great because they don't first want to be good. Once you master being good, then you can be great!
And this can apply you young players as well. If you're watching an NBA game and you see some of the best players doing certain moves, don't try and imitate them. (Not yet at least.)
They are great for a reason. They have spent countless hours working on the fundamentals which led them to be good before they started working on some of the moves you see in the games.
Work on the stuff that is going to make you good. Once you master being good, then work towards being great!
You can't skip steps on the way to greatness, and that goes for everyone and everything in life.
2. Some People Are Okay With Being Good
Complacency. It's like a disease that many people have. People become satisfied. They don't want to be great because they are GOOD ENOUGH. This is a problem.
Good enough is enough people will say. It is enough to get me minutes in a JV game, it was enough to get me a scholarship for college, it was enough to pay the bills, etc. But when did just enough become enough?
Don't you want to make the varsity team, want to start in college, want to play professional sports, want to get the job promotion…
I'm not saying there is no such thing as enough because if you get into that rabbits hole you will never be satisfied. But to not give 100% because what you have is enough to get by is something that I wasn't taught.
It's a good life lesson to always give 100% and always work for the best opportunities. If 100% only gets you to playing some varsity minutes, perfect you gave it your all and won't have any regrets! If it allows you to get a college scholarship but couldn't really get minutes in games, fine you gave it your all and now you have a degree.
We just think that people should have the mindset that they can accomplish what they set their minds to and not be complacent with giving 50%. Give it your all and see where life can take you!
Get from good to Great!
Follow us on Instagram @MyBasketballAcademy for more basketball tips, tricks and tools.