How Does Carmelo Anthony Score?? Breakdown - Mid Range Machine
How Does Carmelo Anthony Score?? Breakdown - Mid Range Machine
2021-03-02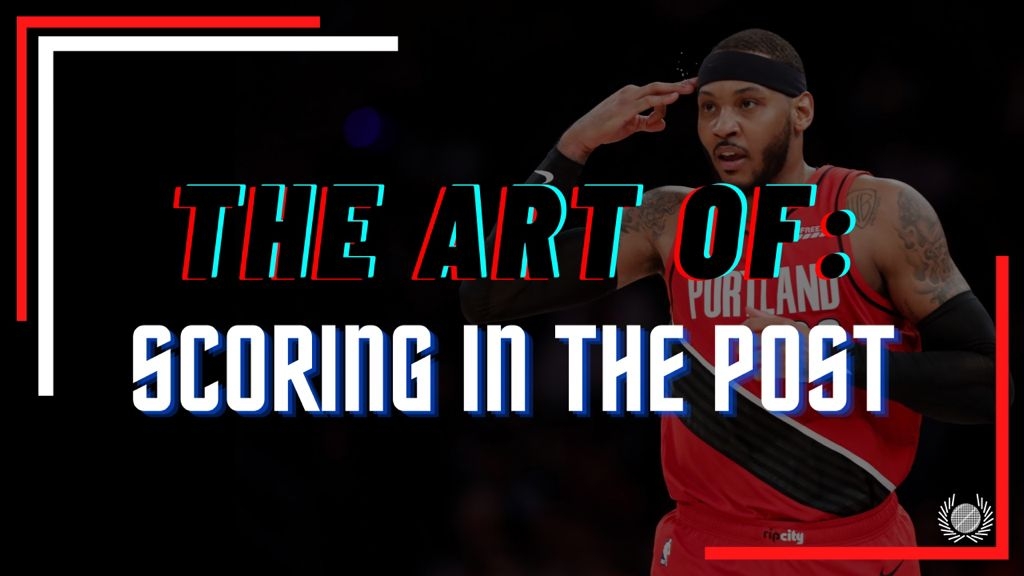 When it comes to scoring from the mid-post, there may not be any better than Carmelo Anthony. Melo is a magician when it comes to scoring from the mid post.
Melo is a great mid post scorer for multiple reasons.
He's got good size that allows him to shoot over defenders.
He's got a quick release which makes his shot hard to block.
He's explosive (even now in his old age his first step is very quick)
He's got ELITE footwork
He's SMART
With all of these attributes to go along with being a great shooter, Melo has continued to be a prolific scorer.
Melo has been able to become such a prolific scorer because of his attention to details. These details have allowed him to focus on moves and shots that a lot of other players can't do.
Melo has made a career off of being one of the best to ever pivot.
WHAT?!
Yes, Carmelo's attention to becoming a great pivoter has been a key factor to his success. Melo is able to create so much space from his defender because of his ability to pivot, and pivot off of both feet.
Melo has also been so successful because of how he gets into his shot selection.
One may say that they think that Melo takes so bad shots. Although, that may be true he knows when and how he's going to take almost every shot.
He's smart, and he knows that when teams switch on ball screens that will usually give him a height advantage in the post.
With this height advantage though, he doesn't back the defender all the way down (most of the time). He just gets to spots on the floor that he is comfortable shooting and rises above the defender.
If they don't switch on ball screens, he will tend to have a big man on him that isn't as quick as him. He'll use his jab steps (for more info on jabs go look into our other blogs) to get the big off balance. He will then use that to his advantage and create space.
Carmelo Anthony knows that all he needs to score is a little bit of space because his shot release is so quick. And all Melo needs to create that space is to get his defender slightly off balance and attack the mistake the defender made.
All of this being said, Melo has some go-to moves that he loves to use in games. And we're going to talk about a few of them.
1. Jab Step and Shoot Over the Defender
Melo loves using this move. And the Jab step usually isn't only 1, he usually will throw in a few and maybe even spin in some circles. But he always keeps the defender guessing, and as soon as the defender drops his guard, or his hands, Melo will pull up.
2. One Dribble Pull Up
If Melo does put a dribble it isn't always to go to the bucket. Sometimes he puts the dribble down just so you take a retreat step and he'll shoot a quick release shot. Sometimes he'll pivot and attack your high leg so that the defender has to take a retreat step, and then just shoot a one dribble pull up or step back.
3. Turn Around
Melo loves backing the defender down and adding a little shimmy before he shoots a turn around. He shoots this shot at a really high level because of his size, athleticism, and his ability to shoot the ball quickly.
4. Pump Fake
With all of these moves Carmelo Anthony has a counter. He knows that defenders are desperate to get a stop and will bite on a lot of his fakes. He uses these pump fakes a lot to get the defender up in the air. When the defender leaves their feet it is an automatic two points for Melo. He will either jump into you and draw the foul, or he'll step through for an easy layup.
Melo's game is very hard to duplicate, but some of the attributes he has can be worked on and mastered everyday. Players of all positions, sizes, and ages have the ability to become a better pivoter and to be more knowledgeable of the game of basketball.
Perfect the things you can perfect! You may never be as good of a shooter, or as tall, or as athletic… but the ability to pivot and watch and learn basketball is something that everyone can do!
Bring Your A Game!!
Follow us on Instagram @MyBasketballAcademy for more basketball tips, tricks and tools.