BEST INSOLES FOR BASKETBALL
BEST INSOLES FOR BASKETBALL
2022-11-16
In this article we will be reviewing the VKTRY performance basketball insoles. You´ll find later on in the article that I have been wearing them for six months, and these insoles have really helped me. Here at My Basketball Academy we are professional basketball players, and we truly believe in this product.
For us, the Best Insoles for Basketball shoes are: VKTRY
performance insoles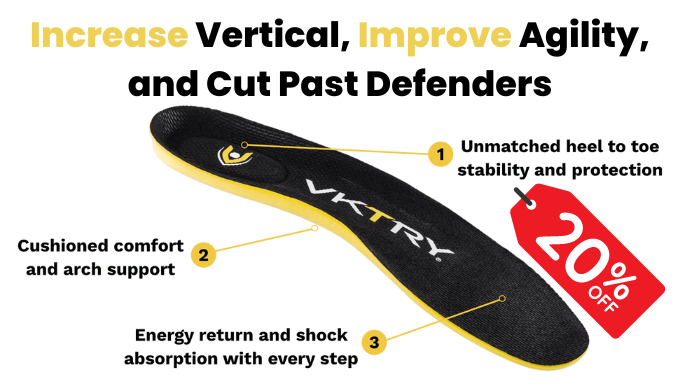 Use this code on their website for 20% OFF your purchase:
ALL VKTRY INSOLES PROVIDE:
Unmatched heel to toe stability protection

Cushioned comfort and arch support

Energy return and shock absorption
VK GOLD Performance Insoles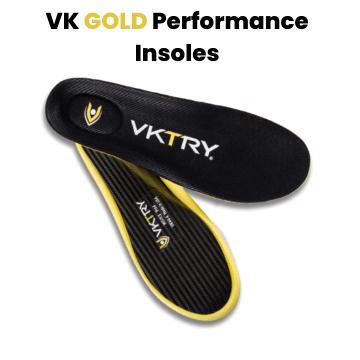 Made for all sports
Baseplate is 100% aerospace grade carbon fiber

Baseplate flexibility is customized based on age, gender, body weight and sport

Top cover is customized thickness (3, 5, 7mm) based on sport and shoe type. Fits all footwear and all sports, even soccer and track

Worn by thousands of pro and college athletes
VK Silver Performance Insoles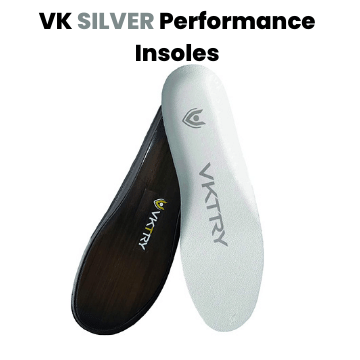 Not designed for cleats
Baseplate is carbon fiber composite

Baseplate flexibility is less customized, but works well for over 90% of people

Top cover thickness of 5mm works well for most non-cleated shoes. For cleats, we recommend Gold VKs

Worn by tens of thousands of amateur athletes
Do VKTRY performance insoles work for basketball?
I've used VKTRY insoles now for the last 5.5 months and I can honestly say that these soles do "work". And I say that because depending on the reason for your purchase, you may or may not be happy with them.
If you are getting these insoles because you need some more support and you´re prone to injuries (like me), then these soles absolutely work. The way that the shoe insoles are made with the aerospace carbon fiber, the deep heel cup(heel cradle), and the firm arch support make this performance insole very worth it.
So if you're someone that has high arches or flat feet, or deals with plantar fasciitis, or really any other types of foot issues these are great for their protection and comfort of your feet.
They also will help with other lower body injuries that aren't necessarily foot related.
Before I got these insoles I would deal a lot with some patella tendinitis, and just got used to the pain, or discomfort because I had dealt with it a long time. Some days were worse than others, some days didn't bother me at all.
When I tell you that AS SOON as I started using these insoles regularly I have had little to no pain in my knee. My ankles never feel sore, even after my conditioning sessions. My hips and back feel better too. All together they have made it easier to be pain free.
Now I could try to tell you it's because of one thing or the other, but I'm not a scientist. All I know is that these insoles have personally helped me and others that I know.
Now if you're getting these insoles because you see the height they get when they are pushed down and you think they are about to add multiple inches to your vertical and make you a lot faster.. Well I'm not sure that they "work" there.
I'm also not saying that they don't work.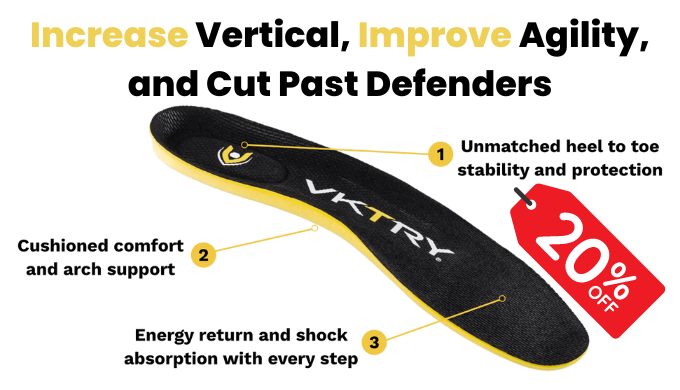 Use this code on their website for 20% OFF your purchase: MYBASKETBA17472
I'm just saying that from my personal experience with the insoles I have not noticed myself getting by more people (so being able to run faster) because of the sole.
Even though for a basketball player, flat out "running speed" isn't incredibly important, it´s more of those quick bursts of acceleration. I also haven't noticed it helping my ability to jump. I'm around 5'11/6'0 and have had a 30+" vertical, and I can't tell you that it has made me jump higher.
I'm also not positive, as I haven't been tested. I'm just going off of the consistency of which I can dunk. Which has not changed since buying these insoles almost 6 months ago.
So they could help with speed and they could help with jumping, I just haven't noticed it. And it honestly would probably need to be a big help/difference, for me to notice.
If your goal is to help with injury prevention then they 100% do help and I absolutely recommend them.
Are vktry insoles worth it? (Our Opinion)
No matter the factors they are good performance insoles regardless. They fit in any pair of shoes, and they do really well in my basketball shoes. They are comfortable once you get used to them, and they really do help with injury prevention.
Some factors you should take into account:
For performance based insoles, you're going to be looking at a high price and the fact that these are a little bit more expensive shouldn't keep you from getting them. They are a good investment.
If you are an athlete and you deal with some lower extremity injuries, and you deal with them often. These insoles are GREAT investments. They've helped my knees, prolonged my career, and made playing sports more enjoyable because I won't have pain in my knees from jumping too much. They will help with ankle and foot injuries as well.
If you're getting these because you are slow or can't jump high and you think these will magically make you athletic…then don't buy them. They may help you a little bit (even though I haven't personally seen much growth), but they won't take you to a completely different level of athleticism.
If you are skeptical for any reason, they also offer a 90-day money back guarantee. So you have 3 months to try it for yourself and see if they really work, and if you don't like them yourself or don't think they are "working" then you can just get your money back. No harm no foul.
1 HUGE tip/word of advice for these insoles (they even give you warning and direction). They will hurt your feet the first week wearing them. They take awhile for your feet to get accustomed to how they wear and the fact that none of your soles are made out ofa carbon fiber composite, most are just made out of certain gel pads that your feet mold into.
They give you directions.. FOLLOW THEM. DO NOT give up on them in your first few weeks because they are uncomfortable. Use the whole 3 months, let your feet get acclimated. They become more comfortable, give you arch support, have good shock absorption, and most importantly, help prevent injury.
If you don't believe us normal folk, then look at all the not so normal athletes that use them. The olympic bobsled used them first, a bunch of college teams and players used them along with loads of other professionals.
So Give them a try, what's the harm?
How long do vktry insoles last?
I can't share with you from personal experience how long they last because I've only had my pair for 5.5 months. I'll typically get in two, two hour long workouts a day, if not more and they are still in good shape.
Their website says that they have people who are still wearing the pair that they bought over 3 years ago, but they also say some NFL and other professional athletes go through a pair every 5-6 months.
They say on average a pair of vktry insoles should last you a whole season(9-12 months).
This isn't something we can vouch for just yet, but almost 6 months down and no problems.
Do Carbon Fiber Insoles Work?
The answer to this question is yes, they definitely work better than any other custom orthotics I've ever used.
The carbon fiber design makes sense as everything else is becoming made with it, why shouldn't your shoe insoles be made of it? They transfer energy well and are protective.
They've helped me and thousands of others.
I'm just a professional basketball player/trainer who uses them and loves them.
Questions that we are often asked?
Are VKTRY insoles Good for basketball?
The answer to that is yes! They are comfortable, the help with injury prevention, and they have been proven to help athletically. Whether or not everyone notices is a different story, but look at their reviews... a lot of people agree that they do. So, yes. They are good for basketball.
Do VKTRY insoles increase vertical?
Statistically speaking they have proven to increase a person´s vertical by 1.6". Thats over thousands of studies.
What do VKTRY insoles do?
VKTRY insoles "do" a lot of things. They can help you become more athletic, and they can help prevent injuries from occuring.
Do insoles make you jump higher?
Normal insoles do not make you jump higher. Normal insoles do not have the carbon fiber mold that VKTRY insoles do. These insoles help convert energy into a spring like motion to help propel in a certain direction. For this case, in the vertical direction.
So, the umbrella answer would be no but VKTRY insoles are an exception.
SHOTMECHANICS USES VKTRY GEAR: Basketball Shoe insoles